Veel bedrijven stappen momenteel versneld over op Office 365. Niet verwonderlijk, want door goed gebruik te maken van de verschillende applicaties binnen Office 365 kun je veel efficiënter en effectiever vanaf elke locatie (samen)werken.
Toch zit er ook een keerzijde aan. Want ondanks alle securitymaatregelen binnen Office 365, worden gebruikers steeds vaker getroffen door security-incidenten, met name door malware en phishing.
Geavanceerde cloud e-mail security
Cisco heeft hier een eenvoudige, maar zeer doeltreffende oplossing voor ontwikkeld: Cisco Cloud Mailbox Defense for Office 365. In het kort komt het er hierbij op neer dat alle inkomende, uitgaande en interne e-mails van Office 365 realtime gescand worden. Zodra een kwaadaardigheid in een e-mail zich voordoet, wordt deze gedetecteerd en automatisch tegengehouden.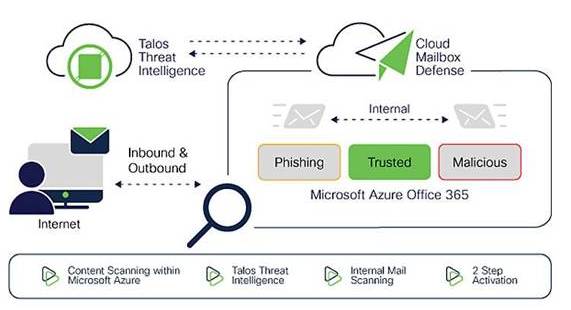 Cisco Cloud Mailbox Defense kan snel en eenvoudig geïmplementeerd worden. De configuratie is minimaal en kan in minder dan vijf minuten worden voltooid. Er is geen aanpassing aan de MX-records nodig.
De oplossing is gebouwd op moderne, open API's voor flexibele integratie in de bestaande e-mail-, beveiligings- en incidentrespons omgeving.
Samenvattend:
Cisco gaat veel verder dan de standaard beveiliging van Office 365 en zelfs die van Advanced Threat Protection van Office 365.
De drie sterkste punten van Cisco Cloud Mailbox Defense:
Integratie
met Office 365 aan de ene kant en Cisco Talos Threat Intelligence aan de andere;
Eenvoud
simpele configuratie en beheergemak;
Zichtbaarheid
intern en extern mailverkeer, triage, open API's.
Cisco Cloud Mailbox Defense zelf ervaren
?
Neem contact met ons op voor een demo of een trial. Eerst meer weten? Bekijk onderstaande video:
Meer informatie
Wil je meer weten over deze oplossing en/of de mogelijkheden in jouw specifieke situatie, neem dan contact op met INISI via telefoon 010-436 88 22 of stuur een e-mail met je vraag naar bart.bossers(at)inisi.com.
INISI luistert, adviseert en helpt je verder!