Many companies are currently accelerating the transition to Office 365. Not surprising, because by making good use of the various applications within Office 365 you can work (together) much more efficiently and effectively from any location.
Yet there is also a downside. Because despite all security measures within Office 365, users are increasingly affected by security incidents, especially malware and phishing.
Advanced cloud e-mail security
Cisco has developed a simple but very effective solution for this: Cisco Cloud Mailbox Defense for Office 365. In short, this means that all incoming, outgoing and internal emails from Office 365 are scanned in real time. As soon as an e-mail contains malicious content, it is detected and automatically stopped.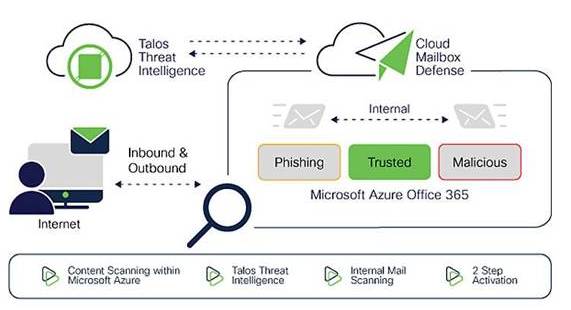 Cisco Cloud Mailbox Defense can be implemented quickly and easily. Configuration is minimal and can be completed in less than five minutes. No adjustment to MX records is required.
The solution is built on modern, open APIs for flexible integration into the existing email, security and incident response environment.
In Summary:
Cisco goes much further than the standard security of Office 365 and even that of Advanced Threat Protection of Office 365.
The three strengths of Cisco Cloud Mailbox Defense:
Integration
with Office 365 on one side and Cisco Talos Threat Intelligence on the other;
Simplicity
simple configuration and ease of management;
Visibility
internal and external mail traffic, triage, open APIs.
Want to experience Cisco Cloud Mailbox Defense yourself
?
Contact us for a demo or a trial. Want to know more first? Watch the video below:
More information
If you want to know more about this solution and/or the possibilities in your specific situation? Please contact INISI by phone 010-4368822 or send an email with your question to bart.bossers(at)inisi.com.
INISI listens, advises and helps you!